Easylib - Webinar Schedule
12th August 2020 Wednesday from 2 PM – 3:30 PM 
Workshop on Project Proposal Preparation for your Library Using Easylib Vidyanidhi Platform ​
14th August 2020 Friday from 2 Pm to 3:30 PM​
Workshop on Conducting Event for your Library Using Easylib Vidyanidhi Platform
Easylib provides state of the art solution for managing your library with 
easy search, 
full fledged acquisiiton, 
cataloguing, 
journals, 
digital library, 
journals and many more features 
backed by robust product, reliance service and continous innovation. Newly launched modules of Campus ERP, Personal Digital Library Management, Customizable Reporting, Alumni Software etc make Easylib, one single preferred solution for your entire institute.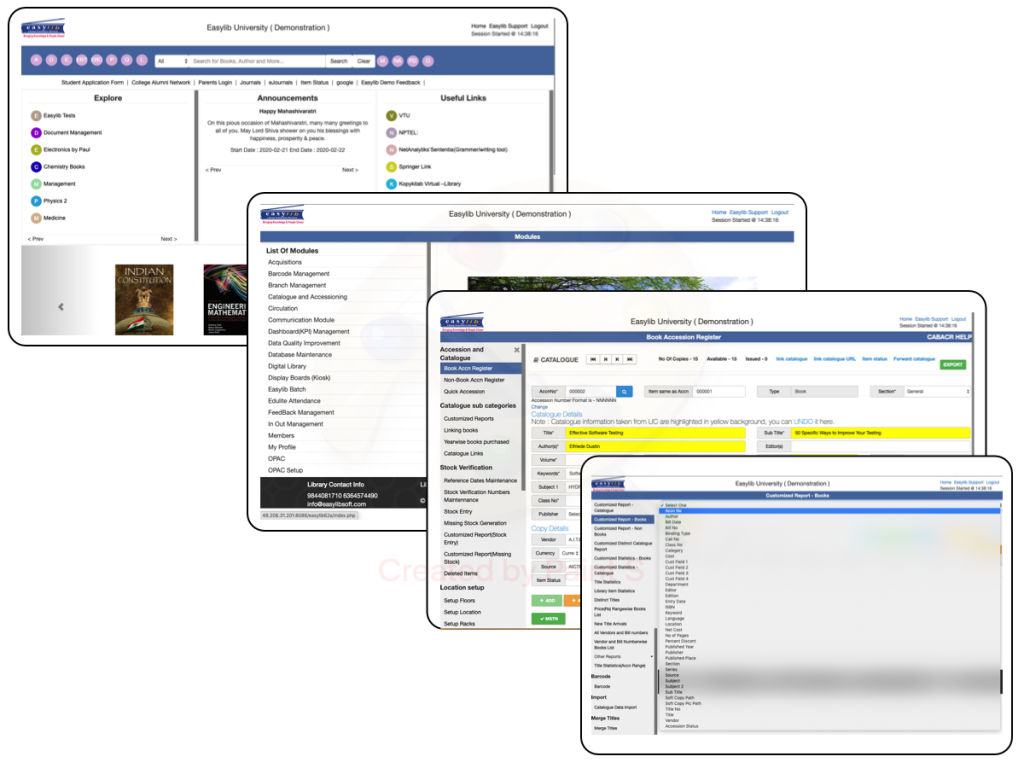 Easylib Live Demonstration. See videos below.
Additional Products and Services Offered
Easylib provides barcode scanners, printers, labels and accessories requires for your library.
 Multiple models of products
 Delivery within a week
 Both printed and empty labels
 Printable within Easylib Software
RFID helps you in (a) taking stock verification easily (b) Reducing misplacement of books (c) Reduce theft (d) Increase speed of circulaiton (e) Offer self check in check out .
RFID Tags for your books
Anti Theft Gate Readers
Handheld Readers for Stock Verification
Self Issue Return Kiosks
Other Services
We offer a wide range of other services for your library..
Cloud Hosting
Data Entry Services
Classification Services
Manage Your Library
Robust Product
Easylib is a state of the art fully functional integrated library management system developed after decades of research and feedback by over 1,000 library professionals, academicians and end users.
Reliable Service
Easylib offers ticket and Service Level Agreement based service by phone call, online service and personal visits, backed up thousands of trained professioanls for peer gudence..
Continous Innovation
Software continually being enhanced for over last 18 years. Has state of the art features include responsive app, SMS and Email gateway, Common Catalogue connectivity, APIs to integrate and many more.
Integrated Features for your Library
Web OPAC Student Login, Requisition, Acquisition, Cataloguing, Accessioning, Membership, Circulation, periodicals, Reports, Security, Set Up, Machine Learning and AI .
Digital Library Freature
Website for your library. eResources Management, Personal Digital Libraries, .
New Modules
Library In Out Management , Form Union Catalogues, Event Registration, Campus ERP Software, RFID Equipment, Display Board Management, Dashboards Management, Feedback Management, Library Branch Management, Barcode Labels and Printers, Own Publications Management, Student Communication, Course Offerings Registration, Data Quality Management, Scholarship Management, Alumni Relationship, Proposal Writing, Android Application, Course Offerings, SMS and Email Integration, Payment Gateway Integration, Barcode Printing, Id Card Printing, .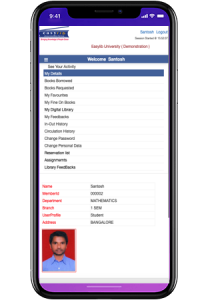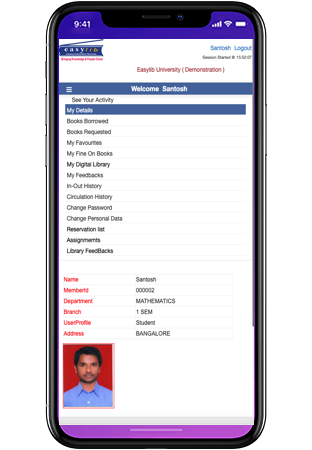 Hosted on Easylib Cloud
Entire application is now available on Easylib cloud. No need of installation on individual machine..
Responsive web design
Means the software is screen size agnostic. It can run on PC, Linux, iPad, iPhone and Android phones and so on.
Free Website
All Easylib customers get a free website for their library. They can update it regularly and make it very informative.
Free Upgrades
Easylib customers 6.2a and above get free upgrades for the modules they purchase. More and more features regulalry without extra cost.
SMS and Email Integrated
Software comes with inbuild SMS and eMail gateway. You simply enable and are good to go. No separate set up needed.
Integrated Helpdesk
Easylib Software and Easylib CRM are integrated. That means help is only one click away.
Site visits between 2018 and 2019:
28,500
Visits: 11131 | Today: 1 | Total: 53449