Easylib is happy to announce updates to 
Easylib 7.2a Campus ERP Application
. It works as an extension to your state of the art Easylib 6.4a Cloud Version and provides the following features.
(1) Establishment and Master Data Management
Multiple Institute Set Up
Course offerings set up
Inventory Management
Room and Capacity Management
Master Fee Set-Up
Staff Information
Student Master Data Management
(2) Admissions Management 
Campaign Management
Online Admission Form Entry
Admission Workflow
Fee Schedule Build
Individualized Fees and Discounts
Fee Reminders
Enrollment to Grades
Enrollment to specific classes/grades
(3) Academics Administration
Assignment Management Learning Management System Quiz Administration Syllabus Management Examinations Module
Timetable Management
Attendance Management
(4) General Administration   
Student Satisfaction Survey
Placement Management
Transport Management
Printing of Barcode and ID cards
Communication Management
Dashboard(KPI) Management
Data Quality Improvement
Hall of Fame Display Boards
Alumni Relationship Management
(5) Systems and Security
API Module Background Jobs Database Maintenance Role-based security Direct database-driven extra reports
Campus ERP Software is being offered on a trial basis for one academic year for all customers who buy Easylib 6.4a Cloud Version License.
Call us today for a demo and get your trial installation. 
Features of Easylib 6.4a Cloud Version for Libraries
Why Easylib?
Easylib is a special software for your library due to the following features.
It is one integrated software for

Physical library management
Institutional Repository Management
Personal Digital Library Management
In Out Visitor Management
Feedback Management
Student CommunicationI Management
Barcode and Spine Label Printing
ID card Printing
Union Catalogue Connectivity

It provides features many innovative features

Speed Cataloguing
Vendor Login
Custom Reports
Custom Statistics
Speed Cataloguing
Built in SMS and Email gateway
APIs for Integration

Customer support is integrated. And in addition is a company focused primarily towards education sector and especially libraries.
Call us today at 97422-04624 Vasu or 98457-45630 Siddu for a no obligation trial or to schedule a demonstration
Easylib Software In-depth Features
Perform english like search rather than having to chose multiple fields and select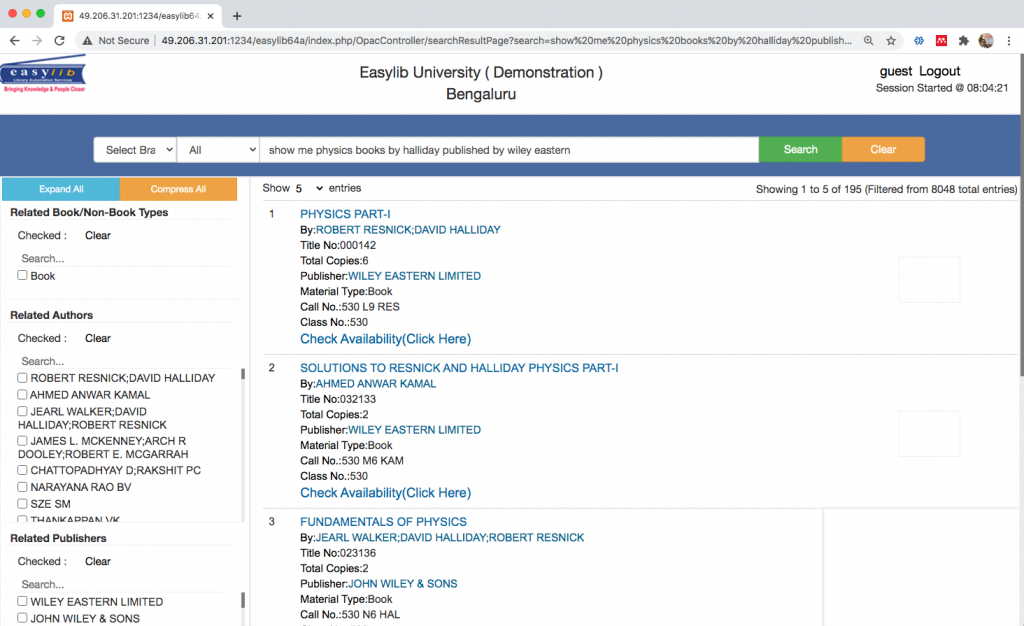 Multiple Templates for your homepage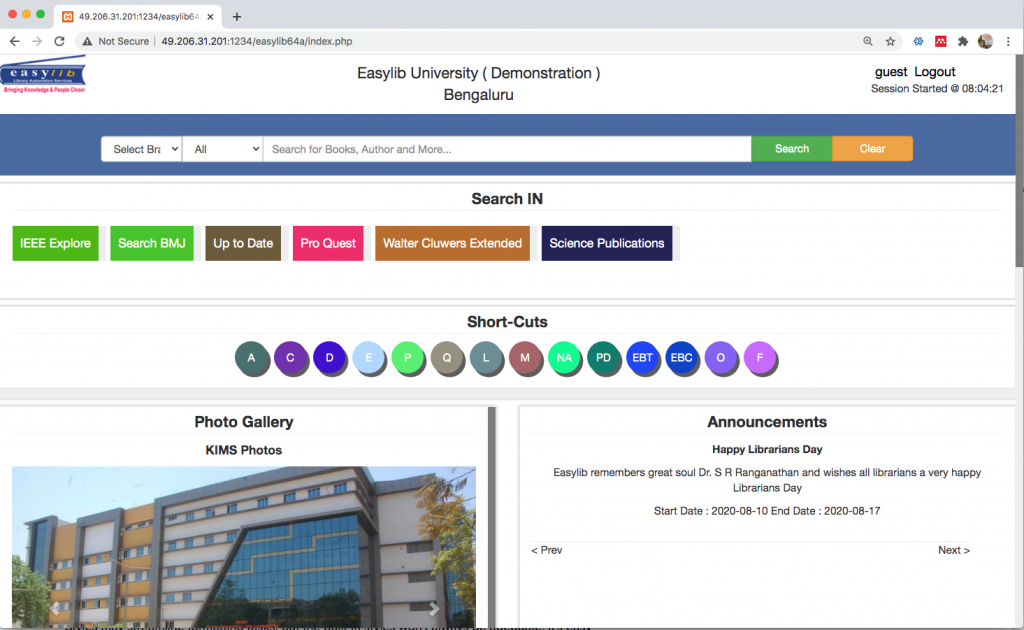 Direct integration with publishers

One window and software for your physical contents, digital contents. user communication, visitor management and much more

Update your library website daily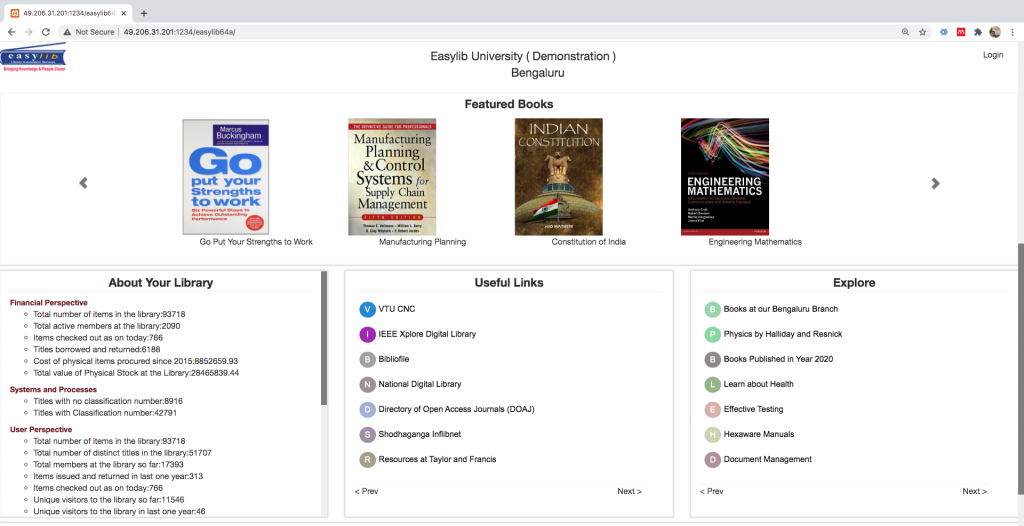 Give users ability to share what they have read on Facebook, Twitter etc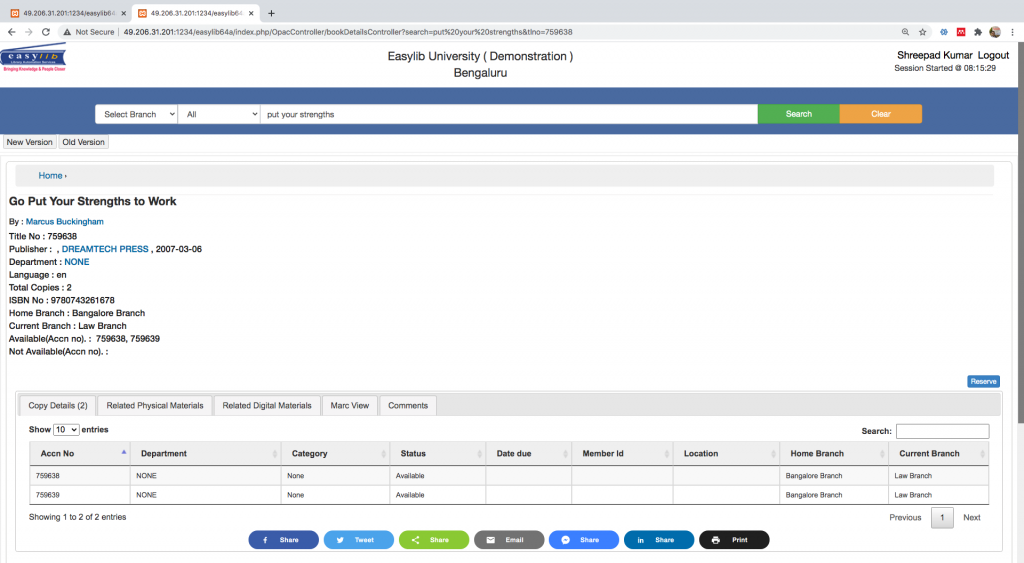 Form Library User Groups and Communicate with them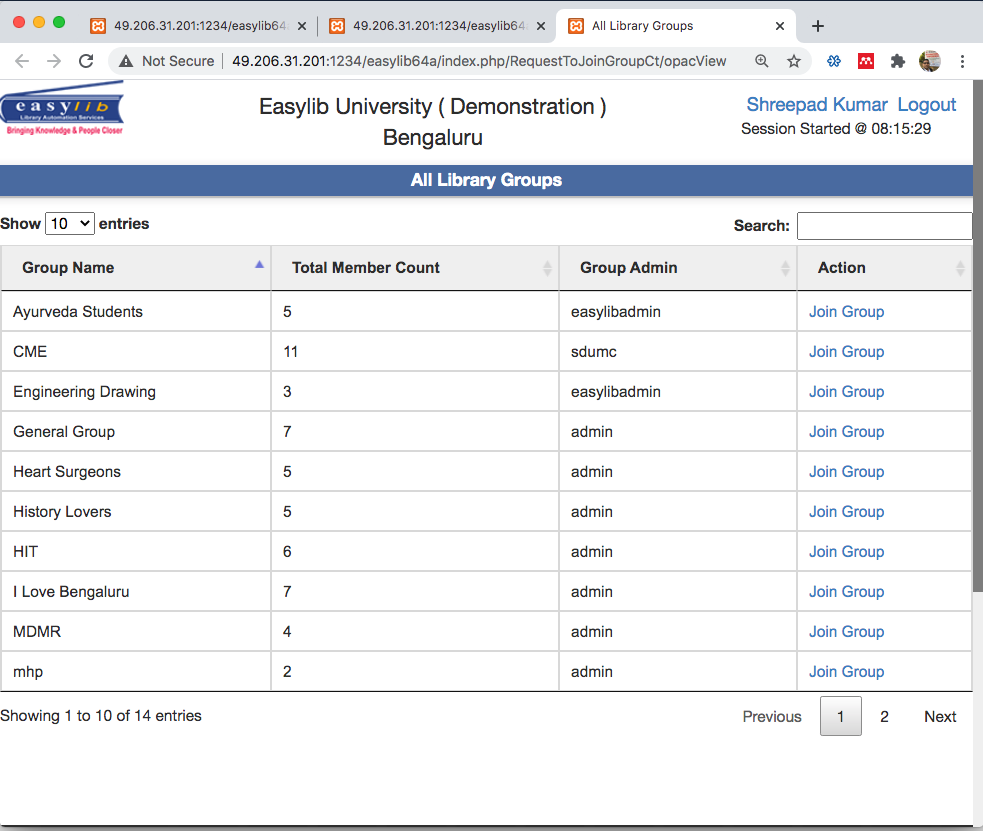 Single Software for your Physical and Digital Library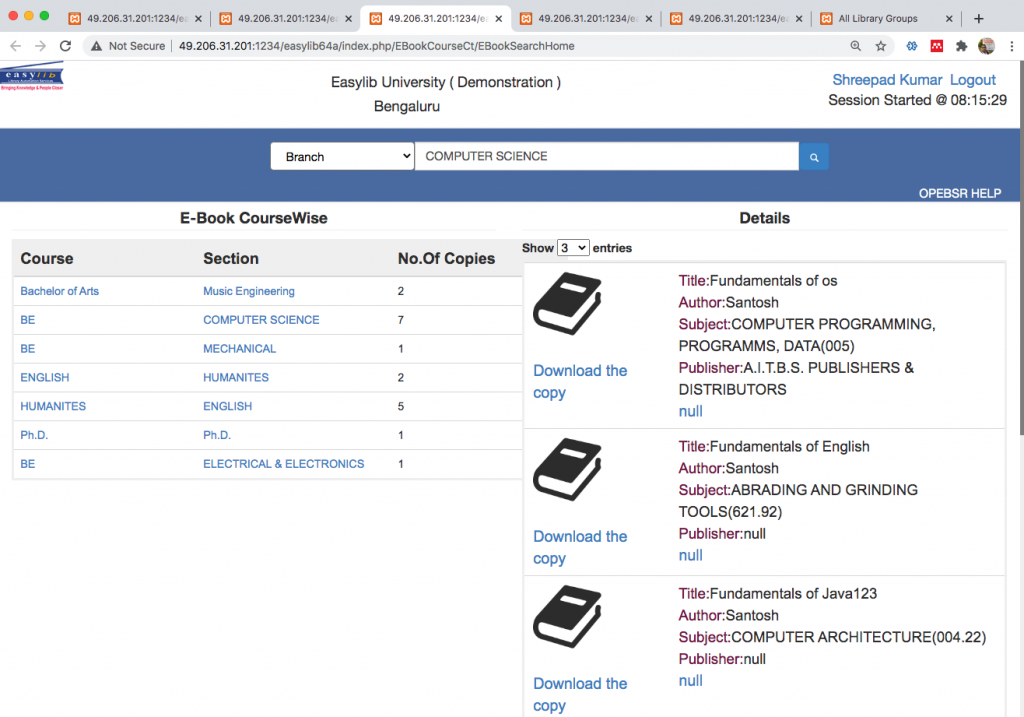 Track all journals at one place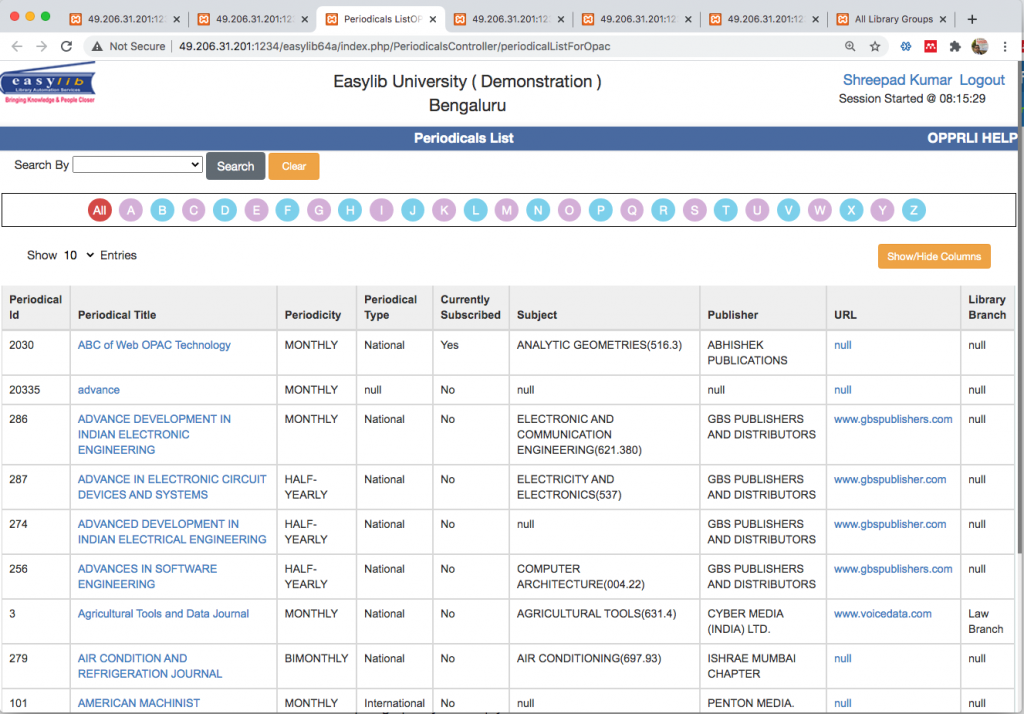 Exact Search Option on various conditions
Print Barcodes and Id Cards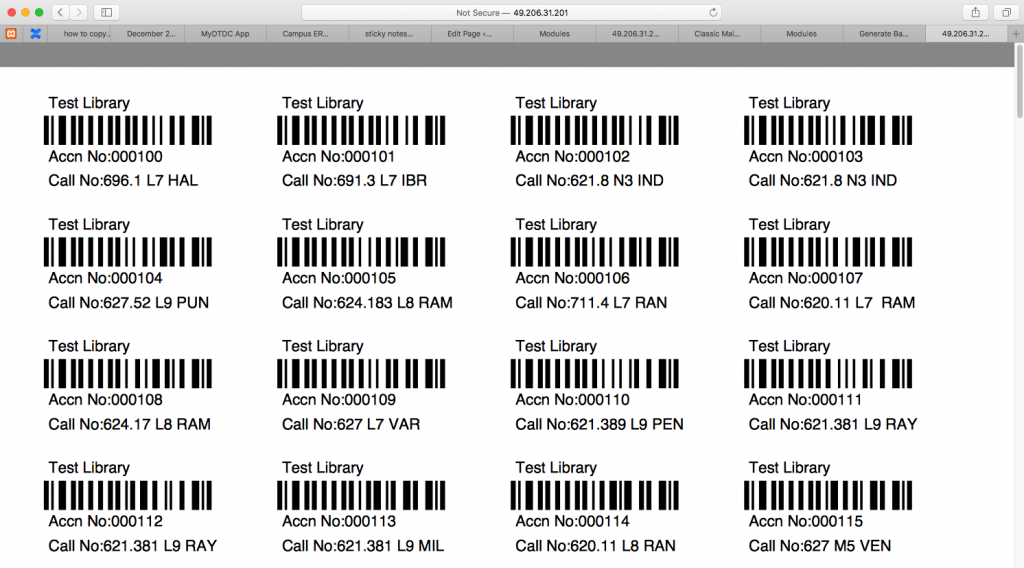 Many many many features in Easylib
Easylib provides state of the art solution for managing your library with
easy search,
full fledged acquisiiton,
cataloguing,
journals,
digital library,
journals and many more features
backed by robust product, reliance service and continous innovation. Newly launched modules of Campus ERP, Personal Digital Library Management, Customizable Reporting, Alumni Software etc make Easylib, one single preferred solution for your entire institute.
Dynamic homepage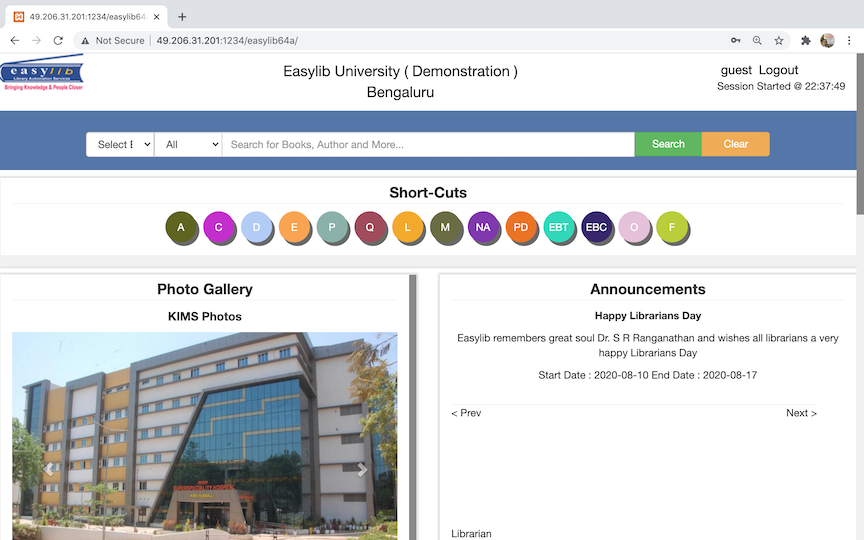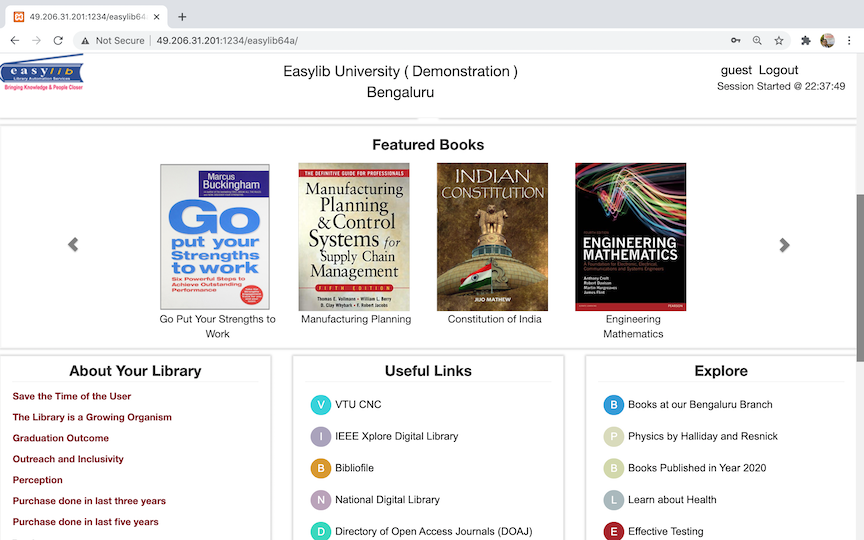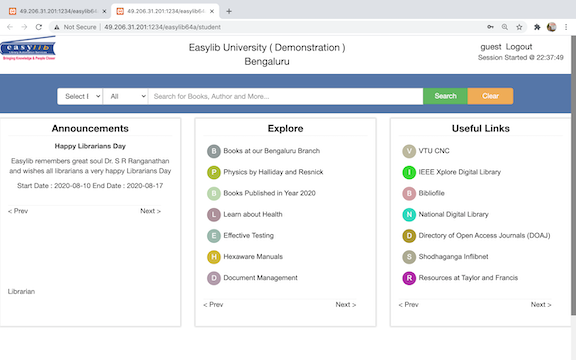 Easylib Demo Videos
BARCODE
Easylib provides barcode scanners, printers, labels and accessories requires for your library.
 Multiple models of products
 Delivery within a week
Both printed and empty labels
 Printable within Easylib Software
RFID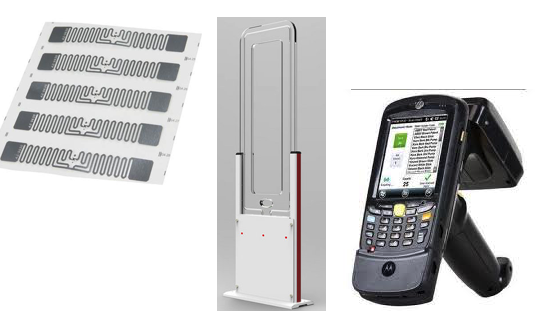 RFID helps you in (a) taking stock verification easily (b) Reducing misplacement of books (c) Reduce theft (d) Increase speed of circulaiton (e) Offer self check in check out.
RFID Tags for your books
Anti Theft Gate Readers
Handheld Readers for Stock Verification
Self Issue Return Kiosks
SERVICES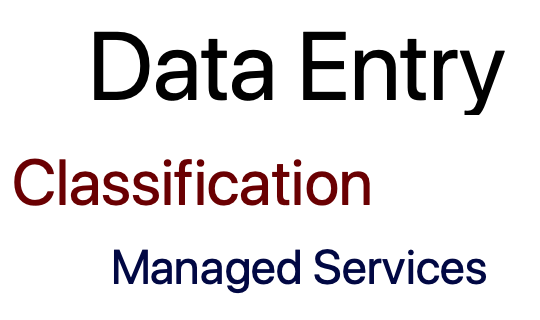 We offer a wide range of other services for your library..
Cloud Hosting
Data Entry Services
Classification Services
Manage Your Library
CORE VALUES OF EASYLIB
Robust Product
Easylib is a state of the art fully functional integrated library management system developed after decades of research and feedback by over 1,000 library professionals, academicians and end users.
Reliable Service
Easylib offers ticket and Service Level Agreement based service by phone call, online service and personal visits, backed up thousands of trained professioanls for peer gudence..
Continous Innovation
Software continually being enhanced for over last 18 years. Has state of the art features include responsive app, SMS and Email gateway, Common Catalogue connectivity, APIs to integrate and many more.
Integrated Features for your Library
Web OPAC Student Login, Requisition, Acquisition, Cataloguing, Accessioning, Membership, Circulation, periodicals, Reports, Security, Set Up, Machine Learning and AI .
Digital Library Freature
Website for your library. eResources Management, Personal Digital Libraries, .
New Modules
Library In Out Management , Form Union Catalogues, Event Registration, Campus ERP Software, RFID Equipment, Display Board Management, Dashboards Management, Feedback Management, Library Branch Management, Barcode Labels and Printers, Own Publications Management, Student Communication, Course Offerings Registration, Data Quality Management, Scholarship Management, Alumni Relationship, Proposal Writing, Android Application, Course Offerings, SMS and Email Integration, Payment Gateway Integration, Barcode Printing, Id Card Printing, .
Hosted on Easylib Cloud
Entire application is now available on Easylib cloud. No need of installation on individual machine..
Responsive web design
Means the software is screen size agnostic. It can run on PC, Linux, iPad, iPhone and Android phones and so on.
Free Website
All Easylib customers get a free website for their library. They can update it regularly and make it very informative.
Free Upgrades
Easylib customers 6.2a and above get free upgrades for the modules they purchase. More and more features regulalry without extra cost.
SMS and Email Integrated
Software comes with inbuild SMS and eMail gateway. You simply enable and are good to go. No separate set up needed.
Integrated Helpdesk
Easylib Software and Easylib CRM are integrated. That means help is only one click away.
500 Active Clients
5,000 Librarians
8 Countries