Easylib Campus Administrative Software is an Integrated Software for Management of your institution by Easylib in the business of serving institutes for two decades. The salient features of the same are
Fully cloud based with fast implementation. The instance shall be ready for use within a day.
Your entire data is that is already entered in re-used. No re-entry needed.
Provides core features of admission, fee, student information, attendance, timetable, exams etc.
Software already designed as per NEP (New Education Policy) offering flexibility
Has many APIs to integrate with other applications like Accounting, Payroll etc.
Establishment Features
Set up all institutes in society
Set up your buildings and rooms
Define academic years
Define courses, fees,
Define exam types, exams
Announce Admissions
Collect Applications Online
Review and Grant Admissions
Manage Fees and Reminders
Maintain Student Master Data
Maintain Staff Master Data
Teaching Faculty Feature
Publish Syllabus
Build Yearlong Schedule
Make Lesson Planning

Offer Classes offline / online

Mark Attendance
Upload Assignments
Upload Quizzes
Assessment
Conduct Exams
Evaluate and Enter Marks
Generate Marks cards
Administrative Features
Set up role based homepages

Design and Print Id Cards
Manage Entire Inventory
Manage Student Transport

Alumni Management

Placement Management
Schedule Batch Alerts
Generate Reports as Needed
Interface through APIs
Manage Projects
Admissions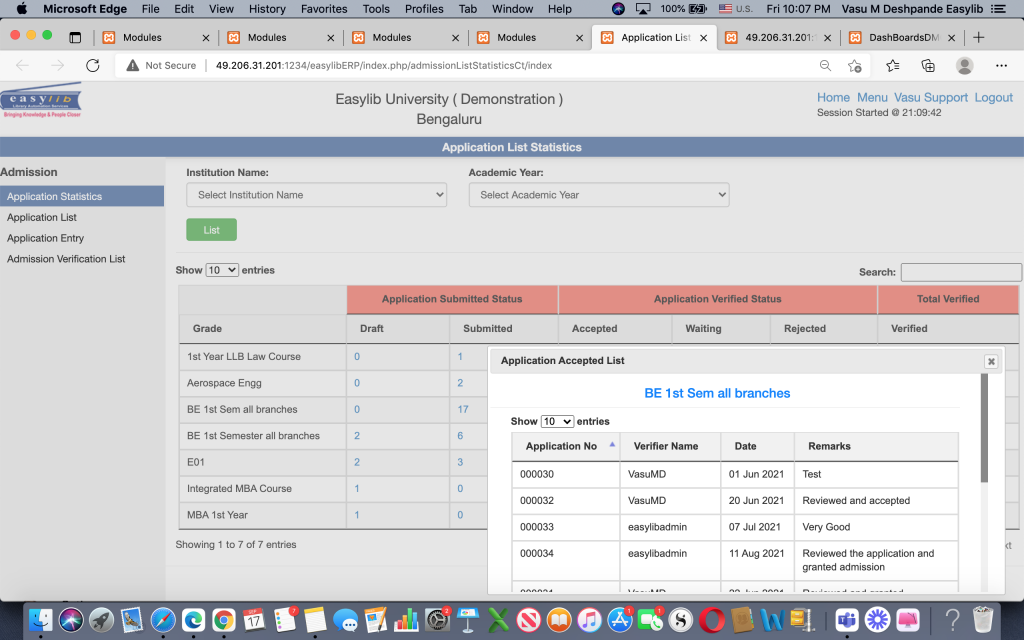 End to end flow for admissions
Admission announcements
Admission form entry
Student Listing and Evaluation
Student Selection and port to master data
Create customized fee schedule
Hundreds of reports
Examinations

Set up exam groups by year
Set up regular exams
Individual students
Bulk enrollments
Tabulate marks
Generate marks cards
Student Module

Details of Students
Customizable Fields
Import and Exports
Customizable Reports
Professor's Digital Library

Professors option to save PDF
Add invite only material
Ability to see statistics of usage
Other Features

Placement Management
Integration with Easylib
Inventory Management
Event Management
Transport Management
Id Card Printing
Setup, Security and APIs

Setup master data at the global level
Multi college implementation and access
APIs for Integration with other applications
Role Based access
Fee Collection

Master fee set up by Grade, Course etc.
Customization by Category
Automatic Build Schedule
Fee collection and Tracking
Customized Fee for Students
Fee waive off approval workflow
Online Fee Payment
Attendance

Enrollment by Course, Grade, Class
Customizable Attendance Roaster
Manual, RFID, API based Attendance
Attendance Reports
Import, Bulk Updates and Export
Bio Metric Integration
SMS and Email Integration
Time Table

Set Up Parameters
Update Classes
Get substitute Options
Feed to Attendance Module
Automated Recommendation
Student Login

Individual Login portal for students
See events, messages etc
See Fee and Class Status
Raise requests for Service
App based attendance
Alumni Relationship

Form alumni groups by city, branch etc
Implement regular communication mechanism
Post updates to Face book, Twitter etc
Arrange alumni events
Take event alumni registrations
Manage alumni funds
Get real time reports
Scholarship Management

Design Scholarships
Announce them onto website
Collect application forms
Identify donors
Evaluate application forms
Forward shortlisted applications
Raise funds from donors
Generate donor receipts
Track donor commitments
Connect donors and student
Manage multiyear grants
Cycle of students become donors
Identity Cards Design and Print

Design identify cards
Vertical, horizontal, multiple formats allowed
Add logo and other images to cards
Dynamically connect to ERP database
Generate printable id cards
Barcode and QR code included in design
Print on A4 size paper or special printers
Reuse previous year id cards as needed
Survey Management

Design feedback forms
Add different types of questions
Run invited and open feedback surveys
Collect responses and analyze
Transport Management

Define various routes
Assign buses to routes
Assign students to bus and routes
Track entry and exit onto the bus
SMS and Email Features
Multiple reports
Assignment and Quiz Management

Define various types of assignments
Add questions to quiz and assignments
Collect responses
Evaluate and generate reports
Placement and internship Management

Maintain relationship with companies
Schedule visits and interviews
Track internship and placements
Role based integration with Library

Integrates with Easylib Library System
Multiple APIs for data transfer
Compatible with RFID and Biometric
Multiple APIs for data transfer